Denyo produces more than 50 different models of engine-driven welders in ranges spanning 30A to 500A.
Its product line includes soundproof units that surpass global standards for noise control, and many which have features unique to Denyo welders, such as extremely stable auxiliary AC power source, and idle control systems that cut oil and fuel consumption by automatically reducing engine speed under no-load conditions.
Denyo also produces a multipurpose welder which can be used for manual welding, TIG/MIG welding, Gouging, and a DC dual welder for two operators simultaneously, supplying AC power.
Advantages / Features
1. High performance, Eco-friendly
The Engine is equipped with the closed breathing system which keeps the blow by gas in the machine, and the aluminum radiator which does not cause pollution is categorised at construction machine which satisfied the emission gas regulation stage 2.
2. Safety protections
Equipped with standard engine emergency shutdown function. When overloading occurs, it will trip the circuit breaker to cut off the AC supply.
3. Easy maintenance
Easy Maintenance with easy access door and drainage for flowing of fuel , oil and radiator.
4. Reduce fuel consumption / noise level
With E-mode operation (idling speed), the unit controls welding current up to 300A on DLW 300ES/DLW 300ESW and 400A on DLW 400ESW respectively, reducing fuel consumption by 25 % ~ 30% compare with other standard welders. In additional, newly developed hood structure incorporations new cooling system reduce noise level.
5. Superior design
Compact structural with improvised engine design. In newly developed "e" mode operation, it achieves low fuel consumption and noise level that promote environmental friendly. High quality AC power can be used with welding works simultaneously.
Heavy Engineering
Offshore Oilrig
Marine Engineering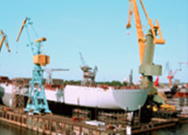 Oil Industries